Hello, friends! It's that time again where I tell you what I read over the past month. Not going to lie, May was a nightmare to get through, personally, but it did result in quite a lot of reading, so I guess it wasn't all bad… Just most if it.
I read a total of 12 books over the course of the month and let me tell you, this is probably my highest achievement since scoring the highest points in the entire district  on a History Olympiad back in 7th grade. (Tells you a lot, doesn't it? lmao) Anyway, despite not having any huns to defeat, let's get down to business:
Star Wars: Dark Disciple by Christie Golden – based on unaired Clone Wars episodes, this book tells the story of former Sith apprentice Asajj Ventress and Jedi Knight Quinlan Vos as the two form an unlikely alliance in order to end Count Dooku's tyranny for good. Falling in love is not part of either's plans, but as the pair grows closer, their feelings for each other grow, too. This book is one of the best written Star Wars books I've read so far. The characters were layered and multi-dimensional, their dynamic effortless. I loved the lore as well. (Also, raise your hand if you've been personally victimized by the ending!)
When Dimple Met Rishi by Sandhya Menon – the rom-com in book form that you've been looking for. Dimple is a tech wizard, determined to get in the best school and be the best coder she can be. Rishi is a hopeless romantic and a firm believer of traditions. The two could not be more different, but their parents seem to think they are a perfect match. Opposites do attract after all. This book is literally the cutest. It's entertaining, endearing and so, so important. You're guaranteed to fall in love with the story. (I've written a full review, if you want to check it out.)
Rogue One: A Star Wars Story by Alexander Freed – no description is necessary, I feel, since everyone and their mother knows what this is about (or maybe they don't… Still.) Listen. I owe Mr Freed my entire life. This book was absolutely phenomenal. Hands down, the best novelization I've read this far. It didn't even feel like a novelization, which, sadly, cannot be said about other Star Wars movie novelizations. The story flowed like it was meant to be a book first, movie second and not the other way around. (And I honestly cannot believe I single-handedly put myself through that for the EIGHT TIME!)
City of Saints & Thieves by Natalie C. Anderson – a story of a refugee girl and the journey she embarks on to untangle the mystery of her mother's murder. Tina is certain of two things – her love for her sister, and her thirst for revenge. But when a plan goes awry, Tina is left on her own and forced to face faces and truths from a past she has no wish to relive. I'm still so conflicted about this book – I enjoyed it, yet it didn't grab me. I love Tina, though, her strengths and vulnerabilities make for an amazing lead. (You can find more of my thoughts here.)
Geekerella by Ashley Poston – or as I call it: the correct way to fandom culture. Elle lives and breathes Starfield – the old sci-fi show is her only connection to her late father. When a cosplay contest is announced, Elle knows she has to enter. Meanwhile, Darien Freeman has just been cast as the lead in the Starfield reboot – his dream role. But he must remain aloof as part of his celebrity image, earning him the fandom's rage. I did not expect to love this book as much as I did, but here I am, almost a month later, still absolutely loving it. I have a full review posted where I properly express my adoration, if you want to check it out.
Windwitch by Susan Dennard – the second book in The Witchland Series. I can't say much about this without spoiling the first book, so let's go straight to my thoughts: This was definitely an upgrade from the previous book. The story developed more depth and, despite my only caring for one (1) plotline out of all of them, I grew attached to some of the new characters (it was one character and it was Vivia). But a word of advice to Ms Dennard – get a better editor. And please start using more pronouns rather than repeating a character's name thirteen times in a sentence.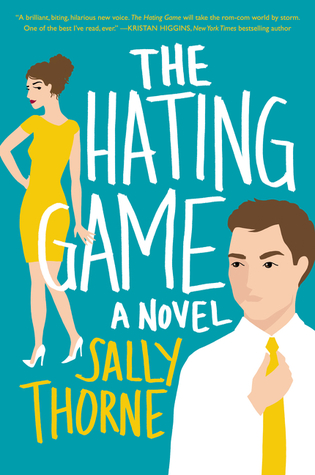 The Hating Game by Sally Thorne – the assistants of a publishing house's co-CEOs hate each other. Lucy cannot stand her nemesis, Joshua, who seems determined to rile her up every chance he gets. Now, with a new position made available in the company, their rivalry is at its peak – but so is the tension between them. I really, really loved this book. It fed me so well, I still can't believe how satisfied it left me. There were times where I found certain actions questionable, but overall this book is one for the favourites shelf.
No Love Allowed by Kate Evangelista – Caleb needs a date to all the society functions his father is forcing him to go to. He convinces Didi, a former waitress in his country club, to act as his pretend girlfriend for the summer. The rule: She must not fall in love with him. But as the summer flies by, it's Caleb who might be falling in love. This book had the biggest potential, but it fell so flat for me. I found the writing so juvenile and overly melodramatic, like a infantilized Nicholas Sparks novel.
P.S. I Like You by Kasie West – Lily's strengths definitely do not lie in Chemistry class. One day she's surprised to find someone had finished the lyrics she'd written on her desk. Soon after, she and her anonymous pen pal begin exchanging full-blown letters. Lily finds herself falling for him, but does she really want to know who he is? Fun fact: I had more or less the same story idea in 10th grade! But Kasie West's version is definitely better executed and way, way cuter. I read this in 2 hours and could not slap the stupid grin off my face after finishing it.
By Your Side by Kasie West – Autumn's plans for the weekend did not include getting locked in a library. Especially not with Dax Miller, the resident bad boy. She's sure her friends will realise what's happened and come back to free her. They don't. Autumn and Dax are forced to huddle together for survival. Not my favourite Kasie West book, but this one, I feel, has the most substance, so to say. Also I've seen people complain how they were in a library, why didn't they read? Which is ridiculous when you take into account that they are locked in and panicking.
Girls Like Me by Lola St. Vil – Shay Summers is having a tough time juggling her father's death, her stepmom's not-so-friendly attempts to make her lose weight, and the school bully. When starts texting a mysterious boy who turns out to be her longtime crush, sparks ignite. But Shay isn't ready to tell him who she is yet. But with her friends' encouragement, her and Blake's love blossoms into real life. This book was a DNF for me. Firstly, the writing style was not for me. Secondly, my eReader was just about ready to die what with how long it was taking it to load each new page.
Everything Leads To You by Nina LaCour – Aspiring production designer Emi Price is nothing if not determined. So when she and her friend Charlotte discover a hidden letter at the estate sale of a recently passed movie icon, she knows she must see this mystery through. It's how Ava Wilder stumbles into her life, taking Emi on a bigger journey that she imagined. I had my problems with this book, but in the end the story captivated me so much, I couldn't fault it anymore. I loved Emi's growth and how her and Ava's relationship developed. Also, I really enjoyed all the behind the scenes of how the movie industry really operated.
Alright, that was all the books I read in May. Notice how most of them are contemporary – the genre I least like to read. But once in a while I do enjoy some light, cute novels about people falling in love. It's a nice way to wind down after all the heavy fantasy and sci-fi that I usually read.
I hope May was such a good a reading month for you too!