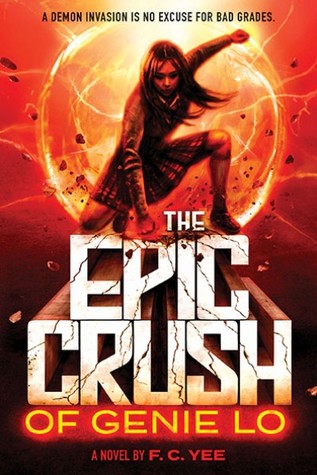 Title: The Epic Crush of Genie Lo
Author: F. C. Yee
Genres: Young Adult, Contemporary, Fantasy, Mythology
Format: eBook
Publisher: Amulet Books
Release Date: Aug 8th, 2017
Source: NetGalley
Goodreads Summary:
The struggle to get into a top-tier college consumes sixteen-year-old Genie Lo's every waking thought. But when her sleepy Bay Area town comes under siege from hell-spawn straight out of Chinese folklore, her priorities are suddenly and forcefully rearranged.
Her only guide to the demonic chaos breaking out around her is Quentin Sun, a beguiling, maddening new transfer student from overseas. Quentin assures Genie she is strong enough to fight these monsters, for she unknowingly harbors an inner power that can level the very gates of Heaven.
Genie will have to dig deep within herself to summon the otherworldly strength that Quentin keeps talking about. But as she does, she finds the secret of her true nature is entwined with his, in a way she could never have imagined…
Y'all. This book. Y'all. It's been a few days and I'm still shaken. Listen, if you thought this looked cool – you're wrong. It's cooler. The coolest. It gives Antarctica a run for its money (aside from the, you know, global warming crisis… Moving on.) I'm giving you a fair warning that this review will be nothing but yelling with a lot of repetitive amazing's and holy sh*t's.
Genie Lo's priorities are to get good grades, excel at everything, and get into the best college that's the farthest from home. But she soon finds them shifting with the arrival of one transfer student, Quentin Sun. Demons begin attacking her home town and Quentin assures her she's the only one powerful enough to stop them. Relying on his guidance, Genie will have to struggle with more than just school work.
Quite a lot of people on my timeline began talking and reading this book recently that it piqued my interest. I do love mythology, but don't know a lot about Chinese mythology in particular, so this book seemed perfect for easing into that. I was really hoping to like it, since it's such a new concept for me and also because everyone who's been reading it has sung nothing but praises, yet I didn't expect this. I utterly LOVED Genie Lo so much I ended up reading it in one sitting. It completely blew me away.
There's so much quality humour in this book. I don't remember the last time a book made me laugh out loud so heartily. Genie is an absolute delight of a narrator, her voice is profoundly hilarious. Aside from the humour, the writing style is insanely engaging – it draws you in instantly. I loved the setting and the lore and mythology and how we, along with Genie, are eased into this uncharted territory rather than just sprung into it. Combine that with the giggles and you have the most enjoyable read ever.
Let's talk about Genie for a second. First off, what a character, what a girl. She straight up takes no sh*t from anyone or anything. I would not want to be on this girl's bad side (not only because she's such a badass, but also she's just that person I would kill to be friends with.) This girl can really do it all, I swear. Genie's a tall girl with a lot of pent up anger, but she's also a girl with so much love for her closest people. I aspire to her when I grow up (even though I'm older than her, but that's just a technicality.)
Quentin is bizarre in the best possible way. His introduction scene? The most iconic. I love this guy so much. From the novel's synopsis you'd expect him to be the typical paranormal YA mysterious male character, but hooo boy, that couldn't be farther than the truth. He's not even TRYING to be mysterious. This boy's about as subtle as a bulldozer. Quentin is also an incredibly three-dimensional character, whose layers peel off as the novel progresses and you get to see practically all sides of him. He and Genie are so incredibly well matched.
Speaking of well matched, the romance is, granted less than I would've liked but so, so good! Call me old fashioned, but I love dorks in love. But it takes time to develop a good love story, and this is more than a fantastic start to one. It's built on trust and good partnership and it's not just about two teens in a YA book making out just for the sake of a romantic plot. There's substance there. It's amazing.
Overall, I very highly recommend this book (if you couldn't tell). Genie Lo is easily one of the best new releases this year. I advise you to get yourself to reading as soon as you can – you don't want to miss out on this one!